Slots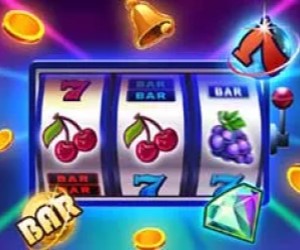 Last Updated on June 29, 2021 by Janine Tan
---
The origin of the term slot machine derives from the slots on the machine in which players used to insert coins. However, the way online slots are played has changed while the term remained. From fruit machines using fruit symbols to modern slot machines or online slots, this form of entertainment has come a long way and today these games may have more complex scenarios but the basic principle is still the same.
With online slots you never know: you win, you lose; it is all about luck. Maybe that is one of the main reasons why this type of casino games is still one of the most popular in the world when it comes to all kinds of casinos. There are no rules as long as you have a positive balance, but you have to know your limits otherwise you can lose big. In this guide we will try to reveal all the secrets you should know about slot games to make the most out of playing them.
How to Play Slots Games
Online casinos offer three types of online slot: classic, video and progressive slots. Though they differ in features, all these slot types are played the same way. Players place their bets and spin the reels populated with sets of symbols. An award is delivered when you create a winning combination according to the paytable. To set your bet, you need to adjust the values according to your preferences and bankroll.
The main difference between the slot types is in the number of the reels and paylines. Classic slots are played at 3 reels while video and progressive slots use 5 or even 6 reels. When it comes to paylines, classic slots in most cases feature 1 or 3 paying lines whereas video and progressive slots are mainly played at 10 or more paylines. Sometimes video slots pay even when you land identical symbols on adjacent reels. That's how you can easily create multiple winning combinations at once.
Video slots are very popular with players due to numerous opportunities to hit a win. Besides, they come with bonus features enhancing your chances of winning. They will be described in the next chapter. As for progressive slots, they have the same structure as video slots, but besides regular wins you can hit a progressive jackpot too, which can be really huge. This award is typically delivered at random and it is a part of the progressive jackpot network increasing with every bet placed on the progressive slots provided by a certain game developer.
Bonus Features
Slot bonus features add more excitement to the gameplay and boost your winning chances at the same time. They include all the additions to the regular symbols like wilds which substitute for other symbols to help you create a winning line and scatter or bonus symbols which trigger bonus games and free spins. These features can be really useful as they help you create more winning combinations and hit bigger wins.
To trigger the free spins feature or bonus game or round you need to land at least two or three scatter or bonus symbols. In most cases you are awarded a number of free spins and sometimes during these rounds additional bonus features are available. They may include multipliers which will increase all your wins from the feature, additional wilds and more. Wilds can be regular, stacked thus covering the reel entirely, expanding when they are included in a winning combination or sticky which means that they will stay at their position for a certain number of spins. Bonus rounds can award instant cash prizes or come in the form of interactive games.
Tips and Strategy how to win at Slots
As we have already said, there are no specific rules which you have to learn before you start spinning the reels. It can really be done by a total novice to this form of entertainment. However, there are certain measures you should apply to prevent losing huge amounts of money. First and foremost, play online slots in free play mode. Once you feel you are ready to place real money bets, know your bankroll and set the win and loss limits. This is an ultimate measure all slot players should apply. When you set the limits you should stick to them and not exceed the bankroll.
As for the strategy, there is not much you could do to affect the course of the game. As a player, you can only influence the amount of payouts as they depend on the value of your bets. What you must do is to visit the paytable of a slot machine you are playing to learn how it pays and what special features it offers. If you keep on losing, you should stop playing the game immediately.
Slot Games Payouts
All payouts are listed in the paytable. Typically, they are displayed in coins, meaning that the shown amounts need to be multiplied by the chosen coin value to get the actual win. Payouts are awarded when you create a winning combination by landing three or more identical symbols on a paying line. Sometimes, only two matching symbols pay. The higher the bet and the longer the combination, the bigger the win; this is the basic principle when it comes to payouts.
Slots Bonuses and Promotions
Some online casinos Singapore give away free spins on specific slot titles to their new players. Even if you don't get free spins, you can use your welcome bonus to play online slots to your liking as all the bets placed on this type of casino games contribute 100% towards wagering requirements set by the casino you play at. The reason for this is simple – slot machines are the game of chance and there isn't much you can do to make a better score.
Existing players can take advantage of a variety of promotions which can be used for playing slot games too. Whether they come as reload bonuses or free spins, these incentives can be used to play slots longer and win bigger.
Mobile Slots
Mobile slots are the latest innovation of the online gaming industry. Thanks to the HTML5 technology you can now access dozens of online slots directly from your mobile browser and enjoy while playing them wherever you are. Some of the leading names in the industry like Mega888, 918Kiss, NetEnt, Microgaming, RTG, and Playtech develop their new titles in this technology and they are added to the mobile versions of casinos at the same time as their online counterparts.
All you need to enjoy this form of entertainment is a compatible mobile device and you can take your favourite slot games with you wherever you go. They are played the same way as online versions and look good on smaller screens with all their features preserved. If you own a tablet powered by iOS or Android, they will look even better due to a larger screen. Customise your bet and start spinning the reels to win big now.